Gunnar Nilsson was born into a wealthy, if somewhat reclusive family, who lived in  Helsingborg, on Sweden's west coast. Around the age of twenty Nilsson began racing in national events. Then at the age of 26 he decided to try his hand in Britain and raced in Formula Super Vee in 1974. The following year he moved up to Formula 3 with a privately owned and operated March. His talent lead to the offer of a works March drive for the 1975 F3 series, which he took full advantage of ending up with eight winds and the title of British F3 Champion.
His plan was to race the works March in Formula 2 during 1976, but a driver swap deal between the March and Lotus F1 teams saw fellow Swede, and good friend, Ronnie Peterson jump to March and Nilsson moving up to the Grand Prix grid in the vacated Lotus seat. He was soon joined at Lotus by Mario Andretti and the two began development work on the Lotus 77.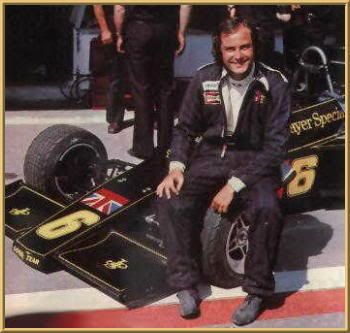 For the 1977 season  Lotus introduced the ground effect Lotus 78 which had several teething problems, but by mid-year had become competitive giving Nilsson his maiden victory at a rain soaked Zolder where he won the Belgian Grand Prix after driving around Niki Lauda's hitherto dominant Ferrari.
Towards the end of the season Nilsson started to feel unwell on a far too regular basis, but still signed for the new Arrows team for the 1978 season. Towards the end of 1977 he was diagnosed with testicular cancer. As the new season approached it was clear that Nilsson was too ill to drive and in a gesture of faith the Arrows team offered to keep his seat open. Unfortunately it became clear that Gunnar Nilsson' condition was terminal. During the 1978 season the deteriorating Nilsson sat on the side lines and watched as the new generation of Lotus ground effect cars that he had helped develop swept all before them, he also mourned the lose of his good friend Ronnie Peterson following his accident at the Italian GP in September.
As he approached his final days he laid the foundations for a cancer research foundation, but would never see it come to fruition as he died on October 20th, 1978.
A year after his death his wealthy widowed mother carried on his work and founded the Gunner Nilsson Cancer Foundation to which she eventually bequeathed her entire fortune.
The same year the foundation was formed a new treatment for testicular cancer was developed that reduced the mortality rate from 90% to 10%.