Olivier Gendebien lived that life of adventure stories as war hero, explorer, race driver and successful business man. During the Second World War the Belgian born Gendebien joined the resistance movement against the occupying Nazi army originally serving as a liaison to British agents parachuting into the country. He later escaped to England and joined the British Army as a paratrooper himself.
After the war he worked in the Belgian Congo where he made the acquaintance of a rally driver, on returning to Belgium the two entered several rallies together. Success in rally driving bought him to the attention of Enzo Ferrari who offered him a place racing both sports cars and Grand Prix cars for the famous marque.
Genedebien competed in 15 Grand Prix between 1956 and 1961 with his best result being a second place at  the 1960 French Grand Prix. He was whoever very successful in Sports Cars racing to four Le Mans 24-Hour victories.  Following his fourth victory in 1962 he retired from racing.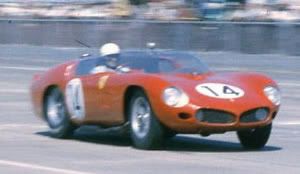 He died at his home in Southern France on October 3rd, 1998